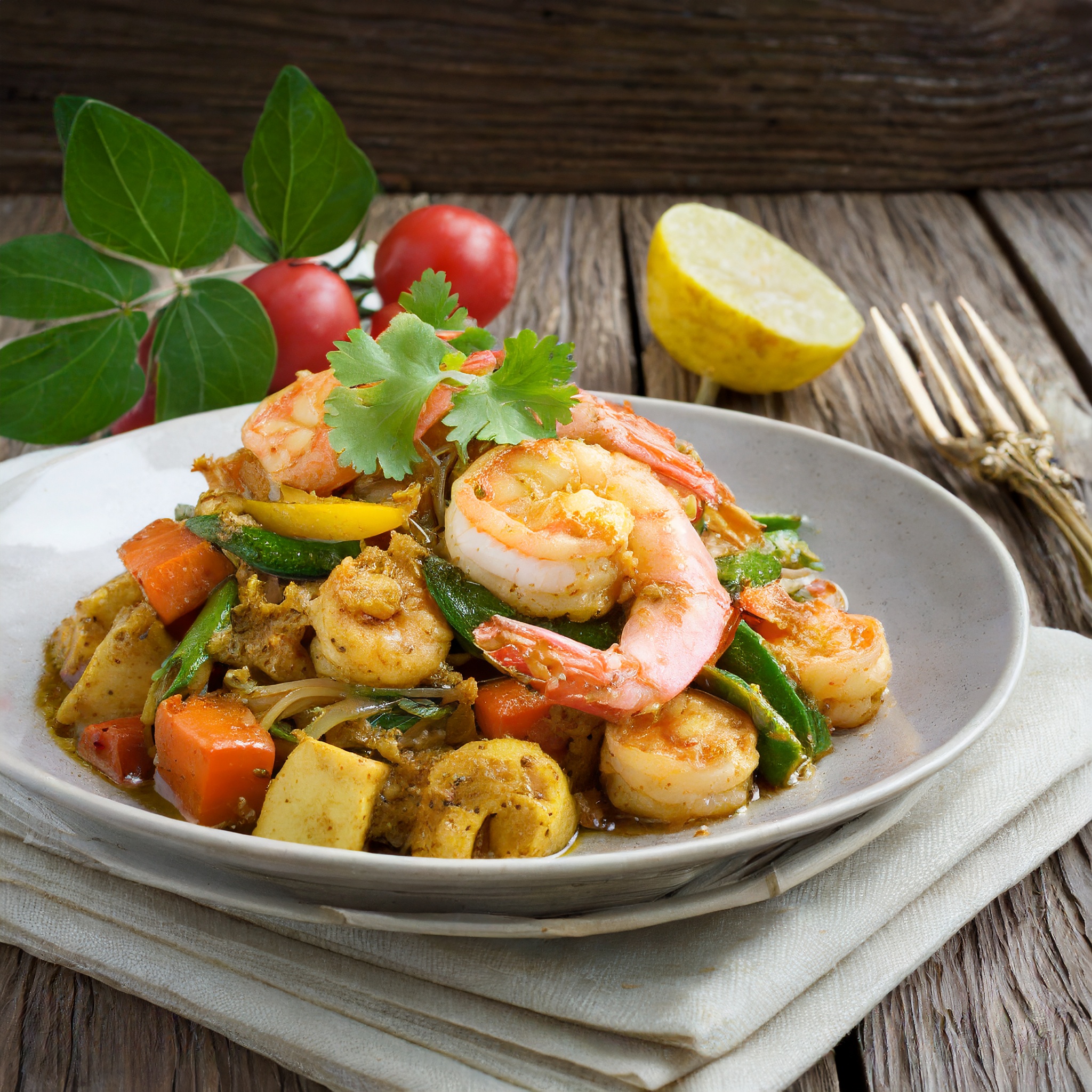 Step 1 : Fill a large pot about halfway with hot water (from the tap); cover and bring to a boil over high heat.
Step 2 : Meanwhile, wash and dry the fresh produce.
– 2 (1-inch) pieces ginger root
– 3 medium carrots (increased for more veggies)
– 3 medium zucchini squash (increased for more veggies)
Step 3: Once the water is boiling, remove from heat and add **whole wheat spaghetti** instead of rice noodles for added fiber. Cook according to package instructions, then drain and rinse under cold water; set aside.
– 10 oz whole wheat spaghetti
Step 4 : If using frozen shrimp, place them in a colander and run under cold water to thaw slightly. For fresh shrimp, pat them dry.
Step 5 : Juice lime into a small bowl. Add water, **low-sodium soy sauce** or **tamari**, **1 tsp of honey** instead of brown sugar, and spices; whisk to combine.
– 2 tbsp low-sodium soy sauce or tamari
– ¼ tsp salt (reduced amount)
Step 6 : Peel and mince ginger and garlic.
Step 7 : Peel and slice carrots into thin rounds.
Step 8 : Dice bell peppers.
Step 9 : Dice zucchini.
Step 10 : Preheat a large skillet over medium-high heat.
Step 11 : Once hot, add **2 tsp virgin coconut oil** (reduced amount) and shrimp. Cook until opaque, 1-2 minutes per side. Remove and set aside.
Step 12 : Return skillet to medium-high heat, add **1 tbsp virgin coconut oil** (reduced amount), and add veggies with a pinch of salt. Stir-fry until softened, 3-4 minutes.
Step 13 : Add drained spaghetti and sauce to the skillet. Cook until well combined and warmed through.
Step 14 : Mix in cilantro leaves and cooked shrimp. Toss together and remove from heat.
Serve and enjoy!