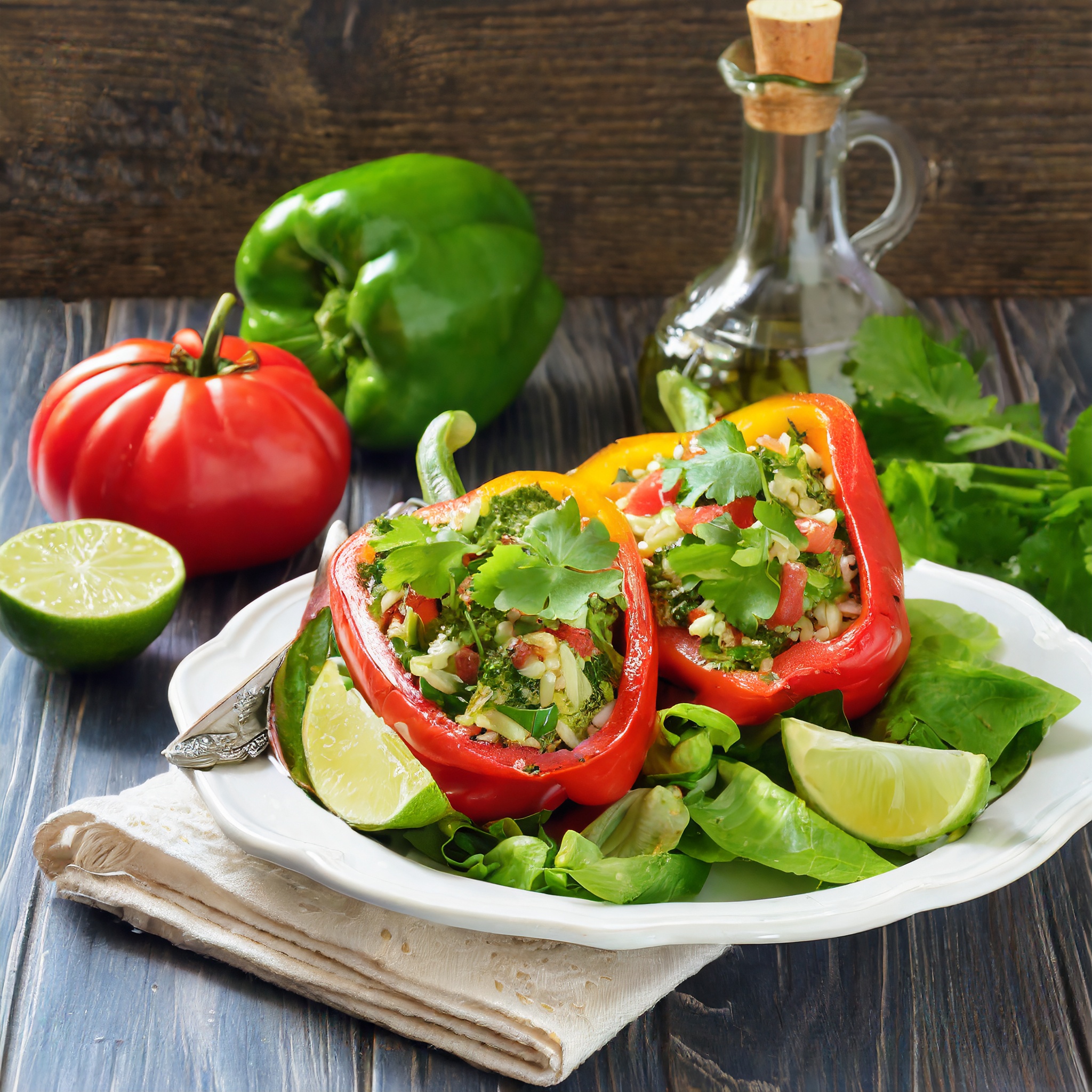 **Ingredients:**
– 1 ½ lb lean ground turkey or ground chicken (substitute for lean ground beef)
– Spices: chili powder, ground cumin, garlic powder, onion powder, paprika, salt, cayenne pepper (amounts remain the same)
– 1 (8 oz) block reduced-fat mozzarella cheese or another low-fat cheese option
– 1 tbsp extra virgin olive oil (divided use)
– Salt and pepper, to taste
Step 1: Preheat oven to broil on high and position rack about 6-inches from the top.
Step 2 : Wash and dry fresh produce.
Step 3 : Trim, seed, and halve bell peppers lengthwise. Transfer to a large baking sheet pan, lightly brush with 1 tsp of olive oil, season with a pinch of salt and pepper, then arrange cut-side down.
Step 4 : Broil peppers as directed, then set aside to cool.
Step 5 : Preheat a large skillet over medium-high heat. Once hot, add ground turkey or chicken. Season with the spices and cook until browned and crumbly.
Step 6 : While the meat is cooking, juice the lime into a medium bowl. Add 1 tsp of olive oil and half of the ground cumin, a pinch of garlic powder, salt, and black pepper; whisk to make the dressing.
Step 7 : Shave cilantro leaves off the stems; discard stems. Mince leaves, adding half to the dressing and setting aside the other half.
Step 8 : Grate the reduced-fat cheese.
Step 9 : Add reserved cilantro to the skillet with the cooked meat. Mix in half of the cheese, reserving the rest for topping.
Step 10 : Stuff the pepper halves with the meat mixture, top with the remaining cheese, and broil until cheese is bubbly.
Step 11 : For the salad, thinly slice the lettuce, halve the tomatoes, and add both to the bowl with the dressing. Toss well.
Step 12 : Serve the stuffed peppers with the side salad.
**Healthier Modifications Made:**
– Swapped lean ground beef for lean ground turkey or chicken.
– Reduced the amount of olive oil used.
– Used reduced-fat cheese.